I have been thinking about this for a while and to be honest, I have struggled quite a bit. I will try my best to articulate it here and hopefully, this will bring some clarity on why we are doing what we are doing.
Our core purpose is to build curricula and design programs for coding boot camps around the world. Our current work is with a South African partner called talent-centric.
I have always seen money as a means but not an end in itself, so for me, it is not about the pursuit of monetary gains. I have always seen that as a bonus. That is not to say we do not need money, that would be kidding ourselves.
Money will definitely be a byproduct of the work we do and we have to be intentional about it because it is the lubricant that oils the wheels of life.
I just want our work to be able to speak for itself and it does not have to be loud. It can be a subtle but intentional and firm voice on some of the things that we truly believe in as a company and mentors of a vibrant developer community.
For my team, I see success as a continuous learning process but I have some indicators that will tell me we are on the right track.
One of them is seeing all of them become truly successful technologists in whatever field they see fit. What I truly wish for them is to see them as successful freelancers that are creating jobs rather than seeking one. I want to see them appreciate the value of being in charge of their time and finances and not depend on the whims of their employer.
I want to see my team grow to be mentors of the same community they have come from and accord the same support and mentorship that they received in order to be successful technologists. This for me would be the ultimate success because then the ecosystem feeds into itself and it would be like a river that never runs dry.
Our developer community that is a little above 3 months now has 45 registered members and growing. It is run by a set of volunteers from my team that dedicate their time every day to support the learners' needs. I'm proud of the work they have done so far. Our ultimate goal is to build a 100K+ strong developer that is self-sustaining. Now, that would be something!
The near-term goal of the birding developers when they join our community is to aim with the support of the community to acquire all certifications of the freecodecamp curriculum. These are world-renowned certs that they can add to their portfolio as a starting point.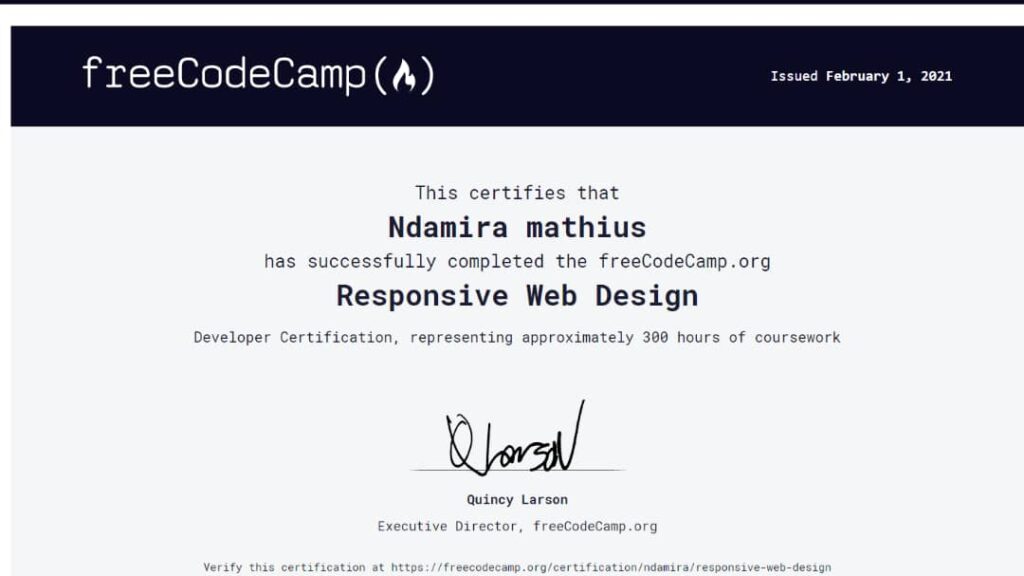 Every developer who goes through our 12-week weekend coding classes for teens qualifies to be part of the community because we believe after the 12 weeks you have a good starting point to join and add value.
Our aim is to continue to mentor, learn, create connections, work on projects together, build a professional online presence early enough so they can start to attract employers and business partners. We strive to build a wholesome person, not just a technically competent developer. We strive to build technology leaders that will impact the tech landscape in Africa and ultimately of the world.